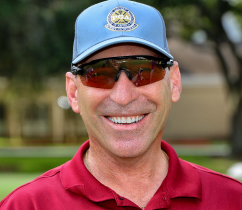 Biography
About matt
Matt Schewe has been announced as the 2023 STPGA Eastern Chapter's Teacher of the Year, and has won the 2023 Harvey Penick Teacher of the Year Award!
Matt has received nominations from the prestigious Southern Texas PGA teacher of the year awards for the past four years, landing in the top 5 each year. He has also become one of the most sought-after PGA instructors in the Houston/Pearland area. Throughout his career, Matt has worked with famous golf instructors Peter Kostis and Dr. Gary Wiren. Not long after graduating from the Professional Golf Management Program at Ferris State University, Matt was hired as the Head Golf Professional and Director of Instruction at Texas A & M University. Matt's success followed him to Pearland Golf Club where he continued The Matt Schewe School of Golf. The Houston Press named him 2009 Teacher of the Year. He has students as young as 4 years old. He has many high school players that have received golf scholarships to major colleges.
Matt believes in an "effortless golf swing" that is smooth and easy. He can teach anyone from small children, to beginners, to advanced golfers to play and improve at the great game of golf. His teaching philosophy is to approach the game of golf and life with a positive attitude. He is always smiling and happy and if asked will tell you it is because he loves what he gets to do everyday! Over the years, Matt has taught many notable students such as basketball stars, Penny Hardaway, Sam Cassell and Vernon Maxwell and NFL star Lemuel Stinson. He has had the privilege of teaching actors Kurt Russell and Sally Field and the famous rapper, Scarface. He has also taught countless other celebrities and professional athletes.